Company History
Barry Stoodley Pty Ltd was incorporated in South Australia, in June 1980 with a total staff of 5, including Nancy and Barry Stoodley. It operated from a small leased workshop in Regency Park, close to the current premises. The company's main purpose was to provide the South Australian road transport industry with an alternative workshop for the professional fitting out of prime movers and chassis modifications. It also held the South Australian franchise for a prominent Victorian body builder.
In 1982, it took control of Chassis Engineering and Equipment Sales, a similar business in the nearby suburb of Wingfield. By this time, the staff had grown to 17.
In 1983, it purchased Aluweld, a small manufacturer of heavy truck bullbars. To this day, Aluweld bullbars are regarded as the toughest in the country.
In 1984, land was purchased at our current site at Tikalara Street, Regency Park, and a new workshop was built to incorporate the three individual businesses into one modern facility. During this time, Barry Stoodley Pty Ltd began manufacturing specialised trailing equipment, including bottom dump trailers, machinery floats, dollies and heavy livestock trailers. The majority of the equipment built during this time was for road train operation, and was used in the harsh remote areas of New South Wales, the Northern Territory, and the Cooper Basin of South Australia.
In 1985, as a result of a contract between CSR Readymix and a major local subcontractor, Barry Stoodley Pty Ltd commenced manufacturing its own aluminium tipping bodies, starting with a single order for 23 rigid tipping units.
In 1986, it began manufacturing steel tipping bodies, steel and aluminium tipping semi-trailers, and dog trailers.
In 1989, manufacture began of B-Double tipping combinations, incorporating a sliding suspension design on the A-trailer that was unique at the time. This design proved so successful, that it is still in use in our current sliding A-trailers, and has been imitated by other trailer builders over the last 20 years.
In 1991, an order was received for 16 special skeletal road train semi-trailers and six convertor dollies from Titan Bulk Transport Pty Ltd, to service a new contract they had won with Western Mining Corporation Ltd.
In 1993, our first road train side tipping semi-trailer was produced, for operation in the Northern Territory. Since then, many more side tipping trailers have seen service with both rural councils and private operators in four states.
In 1995, Barry Stoodley Pty Ltd took over the operation of LM Transport Equipment, a long established South Australian motor body builder. This increased our effective workforce and workshop area.
Also in 1995, a property was purchased from Freighter Qld, in Shettleston Street, Rocklea, Queensland. Several long-serving staff members moved to Queensland to open a branch office, spare parts outlet and workshop facility.
In 1999, work was undertaken to expand the facilities in Regency Park to consolidate both of the South Australian branches on the one site. In early 2000, LM Transport Equipment was closed, and the staff and equipment were relocated to the current premises.
In 2001, Barry Stoodley Pty Ltd became the South Australian agent for the David Brown Powauto range of hydraulic equipment when that company closed its branch office. Operating under the old name of Chassis Engineering and Equipment Sales, hydraulic equipment was sold and serviced by the former Powauto staff from the existing leased premises at Pambula Street, Regency Park.
In 2003, the Pambula Street office and workshop were closed, and Chassis Engineering and Equipment Sales moved its operations to newly acquired premises at Wirriga Street, Regency Park.
In 2005, Barry Stoodley Pty Ltd purchased a Flow CNC Waterjet cutting machine, the first of 2 waterjet machines.
In 2006, the Chassis Engineering and Equipment Sales name was again retired. All company operations were now carried out under the Barry Stoodley Pty Ltd name.
In 2012, the Queensland office and workshop of Barry Stoodley Pty Ltd were closed. However, the company's operations have continued as 5th Wheel'n Pty Ltd, a new company formed by Karl O'Connor, the former manager of the Queensland operation, and employee of Barry Stoodley Pty Ltd for over 25 years. 5th Wheel'n Pty Ltd continues to sell Stoodley tipping bodies and trailers and Aluweld bullbars to the Queensland market.
Current staff in South Australia is 57. Barry Stoodley Pty Ltd is a South Australian, family owned company.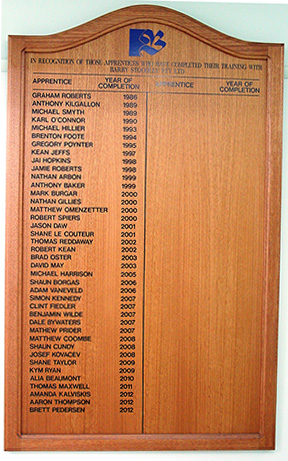 Apprentices
Barry Stoodley Pty Ltd has in place a programme for training and developing apprentices to become skilled, qualified tradespersons. This program has been in place since 1986. The first person to complete his training with us was Graham Roberts, from Yunta. Since that time, we have had apprentices from various parts of South Australia, from Adelaide to the Riverland, from Yorke Peninsula to Karoonda, from Oakbank to Port Augusta, and of course Orroroo.
Our fourth apprentice, Karl O'Connor, completed his indenture in 1990, and went on to manage our Queensland branch for 17 years. In 2010, our first female apprentice, Alia Beaumont, completed her indenture.
We are proud of our apprentices and their achievements. Their names and year of completion are displayed on a board outside Barry Stoodley's office.